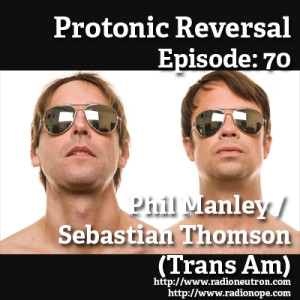 (stream and download – Episode 70)

IN THIS EPISODE! We have Phil and Sebastian in studio and talk to them about the following:
Shows in Bethesda, forging a unique sound, Trans Champs and the Fucking Am, Mark Knopfler likes the Fucking Champs, studio Cabana boys, LARPing swords, not being able to write it, but still loving it "Post-Rock" and rock lulls, Juno 60, Thomas Dolby keyboards and bringing on the heartbreak (isolated), Mutt Lange and substractive levels, Whispers, Life Coach update, daylight savings time, Russia bombing things "accidentally" and other bummers. First show ever in Oakland. Hardly Strictly Bluegrass festival and FREEEE DRUGS! DOING IT LIVE! Lots more Def Leppard talk, bike manifestation and Kelly Stoltz-Bike Angel, EL STUDIO! Phil will record you. Picking setlists and encores, Jon Fine and Your Band Sucks, Sebastian's STRONG OPINIONS of things he has not seen, and things he has not heard. Plans… vocals… Trans Am reacting to itself. NUTS DEEP! Liberation and the Hummer commercial. on NOT taking the money and it not being ok to question the President Bad, Lindsey Lohan sex scene music, and SO MUCH MORE!
Conan Neutron & the Secret Friends – Casually Intense (Opening Theme)

Dire Straits – So Far Away
Trans Am – Play in the Summer

Trans Am – Television Eyes

Trans Am – Anthropocene

Trans Am – Ballbados

Shellac – The End of Radio (Closing Theme)