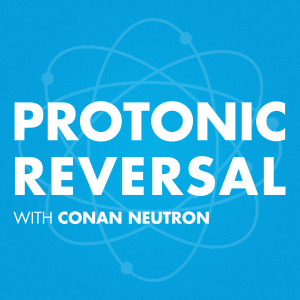 (stream and download – Episode 6)
Neutron is completely exhausted from rock 'n roll double header the night before. So he wanders around more than usual and laughs at nothing quite a bit more. Also he talks to the talented Melissa Dale Neal of Dark Beach and Bryan Giles the guitarist for Red Fang.
00:00:15 Tilts – Ozark Bowtie (Opening Theme)
Protonic Reversal opening – mission bingo
00:06:06 Federation X – So Tired
00:10:29 the rutabaga – The Shaman
00:13:24
Conan saw the final Griddle show and the Songs for Snakes release the night before the show and is very tired because of it.
00:16:07 The Columbines – Nightstick
00:19:05 Primes – Valentine Heart Explosion
00:21:49
Radio Valencia benefit, Conan is "a little disappointed in social media", "serving posts"
00:27:11 Fred Schneider – Bulldozer
00:31:14 Phone call from Michael Cobra of Happy Fangs, the radio valencia benefit show, custom songs, and adding a "third" fang and Mr. Boombastic.
00:36:22 Happy Fangs – The Truth
00:39:08
Interview with Melissa Neal impresario of 9th floor radio and half of excellent bay area band Dark Beach. Simple names. On keeping a campy image, while not being cheese ball. Also neutron rambles on about something.
00:48:33 Dark Beach – Scream Queen
00:51:14 Dark Beach UFO
00:53:57
Back with Melissa Neal, the "show hierarchy" of important events. 9th floor radio and the east bay punk documentary. Why the term "videographer" sucks.
01:04:28 Dark Beach – Persephone
01:09:09 Last piece with Melissa Neal, local shows, etc. http://www.melissadale.net, http://9thfloorradio.com/
01:16:04 Hot Snakes – Automatic Midnight
01:17:35 Red Fang – Wires
01:23:17
Interview with Bryan Giles of Red Fang, on van murals/cop magnets, the "situation awesome" tour, cooking bandmates in an econoline, touring with Rick Froberg in Last of the Juanitas, and seeing Drive Like Jehu at a formative age. Vans vs. busses, breaking even. The making of the Wires video with Whitey McConnaughy
01:38:17 Red Fang – Prehistoric Dog
Last piece of Bryan Giles tour, Federation X t-shirts, American Sharks and Red Fang Hot Sauce. Amazing!
01:49:33 Red Fang – Blood Like Cream
01:53:00 Shellac – The End of Radio (show close)