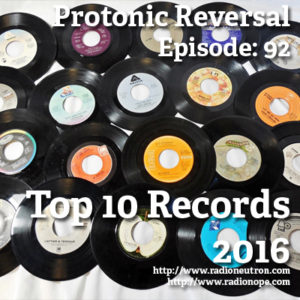 (stream and download – Episode 92)
It was really hard to get down to 10 for this.
Anybody that says there's no good music out there has rocks in their head.
The list:
1. Beat Drun Juel – suppressor
2. Whores – Gold
3. Nocturnal Habits – New Skin for Old Children
4. Helms Alee – Stillicide
5. The Cell Phones – No
6. Future of the Left – the Peace and Truce of Future of the Left
7. Blind Shake – Celebrate Your Worth
8. Savak – Best of Luck in Future Endeavors
9. The rutabega – unreliable narrator
10. Christian fitness – this taco is not correct
5 songs that are not on the top 10 records of 2016
1. Melvins – Decay of Lying
2. Big Business – Fathers Day
3. Maple Stave – Call Sign Spider
4. Iggy Pop – Paraguay
5. John Congleton & the Nighty Nite – You are Facing the Wrong Way

LET'S COUNT IT DOWN!
10: Christian fitness – this taco is not correct
Avid listeners and fans of the show will probably remember… probably remember? How could you forget. Episode 89 with Falco, making a record breaking 4th apperance on protonic, this is a great record. I find that a lot of people don't know it so much. It's all pretty much Falco, Jack from Future of the Left, Mclusky plays drums. It's one of the best records that came out this year, that people haven't paid that much attention that like this kind of music.
Reggie Has Asbestos Training

9. The rutabega – unreliable narrator
This is their second record, the Unreliable Narrator, a little less epic than Brothers The Lights Don't Work which has been their classic go-to, but the songs are as solid as can be, and very cool. I think you will appreciate it very much, if you haven't heard it… you really need to. I'm playing one of the lesser known ones here. There is a very specific thing, there's emotions! there's feelings! it's not just noise all the time. You can find it at Comedy Minus One, they are good people, making good music from South Bend Indiana. I happened to pick the one that is the darkest most emotional journey on the record, that's how we do at Protonic Reversal.
I dig this one, this is the moody closer. I've Been the Armour

Also find them at Comedy Minus One
Josh and Garth appeared on the show all the way back in episode 33!
8. Savak – Best of Luck in Future Endeavors
This is a supergroup of sorts, members of Obits and Virgin Islands. I quite like it, I don't know exactly what I was expecting but it's a really good hot rocking good time. Episode 84 featured Sohrab of Savak, Obits, Edsel. This record came out early in the year, and I feel like it made a big impact with folks, but I feel like people aren't giving it the deference it deserves. There's an almost new wave-y element to it that i'm really into, but this is some serious rock music at the same time.
Also available on Comedy Minus One
7. Blind Shake – Celebrate Your Worth
One of the best bands loosely affiliated with the new garage rock "movement", they are on their own thing, their own trip. The Blind Shake! Possibly my favorite since Seriousness. Just excellent stuff all around. This one is on Goner.
This one is a little less noisy, and a little more DEVO from Pluto.
6. Future of the Left – the Peace and Truce of Future of the Left
I feel like the last few Future of the Left records are divisive for some reason, people seem to be really into them or not into them at all. And they don't give them a chance. They dont' give it a chance. This is a band that keeps getting better, I frankly like them better than mclusky. Which is heretical for a lot of folks and I don't care. It's a busy world, out there. You should make time for this one.
Again Episode 89 for Falco's last appearance
5. The Cell Phones – No
Believe it or not, I find this band a little hard to describe. Truth told, they sound like themselves, but when pressed I say they sound like Tina Turner fronting NoMeansNo, Freddie Mercury fronting DFA1979, Sharon Jones (of Sharon Jones and the Dap Kings) fronting the Minutemen, none of that makes much sense, but it gets you to a starting point. The record is called NO, two words. NO. How do you talk about something like this without just saying: "this kicks ass, shut up stupid, and listen!". It sounds like it's from another planet, but I mean that as a compliment!
4. Helms Alee – Stillicide
Brace Yourself.
Great band, one of those bands that are just difficult to describe but are top to bottom wonderful. A unique voice in heavy music, melodic, epic, adventerous.
Go find them at Sargent House
3. Nocturnal Habits – New Skin for Old Children
This is Justin Trosper and Sara from Unwound, with some Two Ton Boa action in there as well. It's amazing, I love this record, i've listened to it lots. One of the deeper cuts on this one. Lush as hell and great stuff. Soothing in it's way.
An alternate universe sequel to Leaves Turn Inside you by Unwound.
Of course Justin Trosper was also on last episode.
Two time guest on the show. Last appearance was episode 90. This is off the record Gold. It's a bomber. They do a thing that is heavy and noisy, kind of reminds me of KARP-esque things. It's really good. You can also get the back catalog here. Also worthy! They are receiving a lot of attention right now and it's a very cool, gravity defying thing.
1. Beat Drun Juel – suppressor
You probably don't know it, and that's ok. A Chicago band. I slept on listening to this for way too long because I could not remember the name. Which really isn't that difficult. Once you get it, it's fine… but you have to get it. This is fucking awesome. It's PJ Harvey, it's noiserock, it's all those things… and it's own thing.
So those are the top 10 records of the years.
I also am tossing in top 5 songs that were not on those records.
1. Melvins – Decay of Lying

Stiff competition this year, one of the two Melvins record that came out this year. Basses Loaded, the other being Mike and the Melvins with Mike Kunka of godheadSilo. Basses loaded has a bunch of different bass players on it, and it's really cool. The lead off track is one of my favorite Melvins songs in awhile, it's the big Alice Cooper side of what they do, and I like it.
2. Big Business – Fathers Day

They're back as a two piece with a kickass record. It's got riffs, if you know… you're into that kind of thing. The record is called Command Your Weather.
3. Maple Stave – Call Sign Spider

I had this record for awhile, listened to it and enjoyed it. But this song is the business. From the incredibly politically contentious state of North Carolina. Last song on the record, I like them a lot. Don't know why it took me so long, frankly. This one gets real close to emo, real close to something i'm not comfortable with at all, but stays on the right side.
4. Iggy Pop – Paraguay

One that might actually be on a few lists outside of the Nerd-o-verse. Post-pop Depression, it's a good good record. I liked it a lot, I didn't top 10 like it though, I think it has some weak spots and some of lyrics kind of blow. One of my favorite rock 'n roll people of all time. But it's true, certainly my favorite Iggy Pop record in years and years though. Kind of his goodbye record, it's interesting to think of there not being an Iggy Pop around anymore making music. I think it's kind of awesome that it's in the last song lyrically too.
Oh! Do yourself the favor and follow Iggy Pop on instagram to see him hanging out with his bird, it's amazing.
5. John Congleton & the Nighty Nite – You are Facing the Wrong Way

FEEL THOSE CHIMES SUCKA! I love this record, but there are only so many slots. I listen to this one a lot actually. Famed producer John Congleton and ex-pAperchAse
Christian Fitness – Reggie has Asbestos Training
the rutabega – I've Been the Armor
SAVAK – Alive in Shadows
The Blind Shake – Apostle Island
Future of the Left – Running All Over the Wicket
The Cell Phones – You Make Me Say No
Helms Alee – Tit to Toe
Nocturnal Habits – New Skin
Whores – I See You Are Also Wearing A Black T-Shirt
Beat Drun Juel – Hugger

John Congleton & the Nighty Nite – You Are Facing the Wrong Way
Iggy Pop – Paraguay
Maple Stave – Call Station Spider
Big Business – Father's Day
Melvins – Decay of Lying

The Blind Shake – Reasonable World

Shellac – The End of Radio (Closing Theme)