Ep101: Lindsey Charles (The Cell Phones)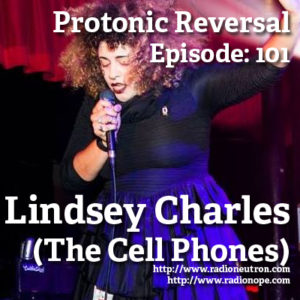 (stream and download – Episode 101)
It's Episode #101 of Protonic Reversal! Your hosts, Conan and Josh, are in a sour mood, due to living in the world. But never fear, a phone call with Lindsey Charles of the Cell Phones cures what ails them! After some discussion about Refused (overrated? Or rated just right?) and the fascinating concept of changing a band's structure by adding in another ill-fitting member out of rock history.
Topics in this interview include:
-Lindsey's talented brother
-The curse of buying more than you intended during any Target visit
-Everyone loving the Cell Phones' "West Coast"
-People connecting differently to the same song
-Why don't we discuss pregnancy?
-Wielding emotions like a weapon
-Playing for unexpecting crowds
-The puzzle of songwriting
-Hooks!
-Selling the album title
-Impressing one's dad
-53% (Overrun)
-NEVER BE QUIET
-It's not a joke, sometimes
-the Kool Aid Man full of period blood
-Mismatched bookings
-Well-matched bookings
-Encounters with Lesley Gore
-The outlet of performance
By the end of the episode, Conan and Josh are on Cloud Nine. We think you will be, too!c
The Cell Phones – West Coast
The Cell Phones – You Make Me Say No
The Cell Phones – 53% (Overrun)
Shellac – The End of Radio (Closing Theme)